I came across Changelly while looking for a way to convert my ZEC earnings into Bitcoins. Even though I was interested only in ZEC:BTC exchange, I was pleasantly surprised to find that the service allows conversion between multiple crypto pairs (I think I counted 69), and also offers the ability to purchase crypto coins with a credit card.
Changelly looks like a very convenient service, so I took to study it a little more. Is it legit or a scam? I decided to find out, and offer you my Changelly user review.
Changelly
Web site: https://www.changelly.com
Legal Name: Changelly.com (?)
CEO: Konstantin Gladych (LinkedIn profile, Twitter profile)
Established: 2013
Located in: Prague (Czech Republic)
Insurance for fiat currencies: n/a
Insurance for digital currencies: n/a
Available in: worldwide
Digital currencies traded: BTC / LTC / ETH and more than 60 others (click for full list)
It is important for users to know that Changelly does not operate as a broker like Coinbase does. Changelly does not sell crypto currencies to the customer directly. Instead, it relies on partnerships with multiple trading exchanges — Poloniex, Bittrex, Indacoin, HitBTC and presumably others — and uses trading bots to select the best exchange rate available at the moment the user initiates an exchange operation. This method of operation comes with a special set of pros and cons which you must understand clearly before using the service.
Changelly does not keep customers' money on its wallets, and is therefore impervious to theft attempts1Granted, in theory the service can still be compromised so that when you sell your coins, the proceeds are redirected to a different address than yours. But such intervention is high-effort, low-reward: the hackers can't run away with a big wallet, but instead must syphon off many small transactions over a long period of time. Such activity will be identified very quickly by nervous users who don't get their coins.
The downside of the above is that Changelly does not offer fixed exchange rates. The rate you get upon completion of the exchange will differ from the quote you have been given when you initiate the procedure. This effect is especially significant during periods of high volatility. It can be multiplied further when trading crypto pairs with low trade volumes (exotics) and long confirmation time (e.g. BTC, BCH, BTG…). To top things off, a further delay can be caused by an inexperienced user who selects a low transaction fee which delays inclusion into the blockchain.
Because of all these particularities, Changelly may not be a good match if you are looking to spend Bitcoins (or a slow moving Bitcoin clone) to buy another altcoin. The service is much better suited for exchanging altcoins for Bitcoin (or its clones).
Some people who mine altcoins with their GPU rigs want to convert them into Bitcoin on a regular schedule and might be tempted to write an automated script to do that with Changelly. However you should never reuse addresses used previously to send coins to Changelly. Because each trade may require sending coins to a wallet hosted at a different exchange, you must always, always enter the send address issued to you by Changelly for each particular transaction.
User Registration and Validation
Here is something most potential users will not like: Changelly wants you to register with an email address in order to trade crypto currencies, and further validation is required if you are buying tokens with a credit card, including a valid phone number and (optionally, I hope) a photo of yourself and a valid ID.
I understand why this is necessary: Changelly operates out of the EU and because it allows credit card payments, it must provide some sort of AML/KYC compliance. But the end result is that your privacy might be compromised. I guess you could fool the system with a throwaway email address, but you must be able to receive messages on it, because your initial password is sent to this address.
The greatest problem with this mode of operation is that Changelly keeps a full log of buy/sell operations. Even if you are using a throwaway email address, your transaction history is kept on record, forever. A hacker might not be able to steal money from Changelly, but he could steal their customer list and transaction logs. So the very least you can do is enable 2FA (the service supports Google Authenticator).
If any of this is making you uncomfortable, you might want to consider using ShapeShift instead. Their service is based in Panama and does not require any kind of customer identification.
Currencies Traded & Limits
The Changelly website does not mention any limits when trading crypto currencies. If you intend to trade large amounts of coins (e.g. worth several bitcoins or more), you will probably be better off going directly to an exchange, because you will have better ability to time the market and presumably get a better rate, but for anything smaller the convenience offered by Changelly beats the alternatives.
When buying coins with a credit card, there are several limits you need to be aware of. Quoted from the Changelly FAQ:
Although you may exchange up to any amount in general, we do have some terms for your first several transactions via bank cards:

USA, Canada and Australia – $50 limit for the first transaction, the next purchase could be made in 4 days (100$ limit), $500 after 7 days of the first buy. No more than 3 payments within the first week. No limits in one month at all.
CIS region (Russia/Ukraine/Belarus/Kazakhstan/Armenia/Georgia) – $200 limit for the first transaction. The next limit increase could be done in 24 hours. The total limit for the first week is $2000 and for the first month is $10000.
EU and other countries – $100 limit for the first transaction, the next purchase could be made in 4 days with 200$ limit. And $500 after 7 days of the first buy. No more than 6 payments within the first week. No limits in one month at all.
Changelly Fees & Costs
For coin exchange, Changelly charges a flat 0.5% fee on each trade, plus a miner fee which depends on the coin purchased. Network fees are fixed for most currencies and dynamic only for Bitcoin / Bitcoin Cash. Go to this blog post and scroll down for a complete list of fees. You can see the network fee for your Bitcoin transaction before you initiate it. More on Bitcoin fees below.
For coin purchase with credit card Changelly still charges a 0.5% conversion fee, but on top of that it charges further 5% for whatever reason, and another 5% ($10 minimum) goes to their card processor (Simplex). This makes purchases much more expensive than places like Coinbase (3.99% card charge plus 1.45% trade charge) or Bitstamp (5% card deposit charge plus 0.25%-0.10% trade charge depending on volume). I wouldn't normally use Changelly to buy coins with my credit card.
Changelly Interface
The Changelly website has a beautiful, clean and very easy to use interface. View the gallery below to see how a coin trade is made.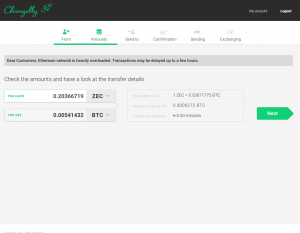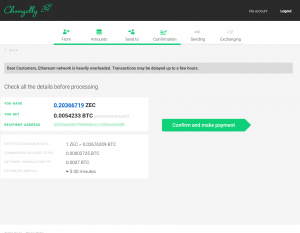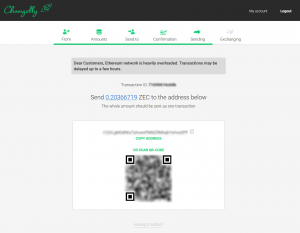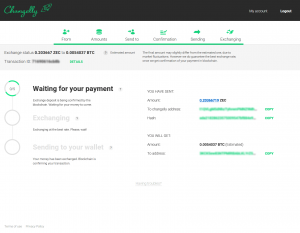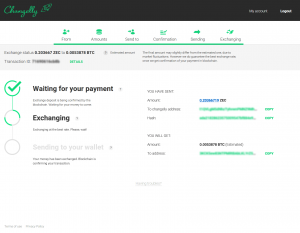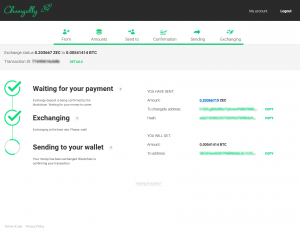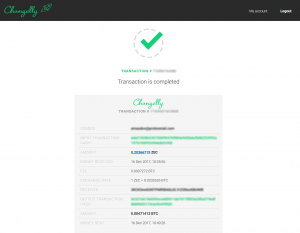 Until this point, the experience was smooth, but I was now a bit anxious about the actual Bitcoin transaction. I made the purchase during a period of high network congestion, and I was expecting a long delay until the transaction was picked up. Boy was I wrong!
Changelly picked up a single UTXO with ~138 BTC in it, and crafted a 2kb, 55-output transaction. Whoever designed the fee calculation algorithm for Changelly wanted the transaction to clear really fast and slapped a 0.0032754 Ƀ (161.191 sat/B, 42.003 sat/WU) fee on it. This was enough to guarantee inclusion in the very next block, but even though I was relieved, I also felt… a little sour.
See, Changelly took 0.0007 Ƀ from me and (presumably, same or similar) fee from 53 other users. 54×0.0007 makes 0.0378 Ƀ, or 11.5× as much as it actually cost of sending them Bitcoins. I realize that many people will prefer speed over cost, and that the service must do whatever it can to minimize the number of support tickets asking 'Where's my coins', but still… You can do better, Changelly!
Mobile App
Changelly do not have a mobile app of their own, but there are 3rd party services that use their API. Among the more popular 3rd parties are Coinomi, Jaxx, Coinmarketcap and many others.
Security
We already covered this in the beginning of the review. TL;DR version is, the service requires email registration (or login with Facebook/Google profile, which I strongly advise against) and keeps a permanent record of all transactions.
If you're not cool with this, you will be served better by ShapeShift instead. But if you decide to stick with Changelly (ShapeShift has higher miner fees and can't be used to buy coins with a credit card), by all means enable 2FA on your account (log into the service and go to Account → Profile, then Enable 2-Factor Authentication.
Customer Support
I haven't interacted with Changelly support and cannot vouch for their competence. I studied carefully more than 50 Changelly user reviews on TrustPilot (ignoring the 'It's a scam, do not buy' one-liners) and they are the usual mixture of bad exchange rate complaints and slow order processing. However most user comments fail to sufficiently convince me that the service is 100% at fault.
My overall impression is that complains come mostly from people who have tried to trade Bitcoin or Ethereum against some token nobody has heard of, or a 'shining star' altcoin during a cost spike. When you combine volatile exchange rate with congested network (ETH) or slow transaction time (BTC, especially with low network fee) and throw low liquidity (big spread) on top, of course the results would be disappointing. So I am going to repeat myself: Changelly is not well suited for buying alts with Bitcoin/Ethereum and is better used in the other direction (sell alts for BTC/ETH). This is not a fault of Changelly; this is the expected result from the way it is designed to work.
Update on Customer Support (31.12.2017): I did have a chance to contact Changelly after all. On my third use of their service my transaction got stuck for 1.5 days for no apparent reason. I did get a standard automated reply explaining how busy they are and how they try to respond within 72 hours. Because that transaction finally cleared on its own, I doubt I will ever receive a response from a human (but I will update this again if I do). But so far the experience looks no different than what you'd expect from any exchange service during a peak season (far from stellar).
Conclusion
Although I feel a little disappointed with the network fee I paid and feel there is room for substantial improvement there, I am generally happy with Changelly. But please bear in mind that my experience is limited to trading a single pair for a specific purpose, after careful planning and comparison. Your results may vary due to the many reasons explained above. That said, I feel like Changelly deserves that you give it a try.
The green button below will take you to the Changelly website, where you can test the service with a small amount.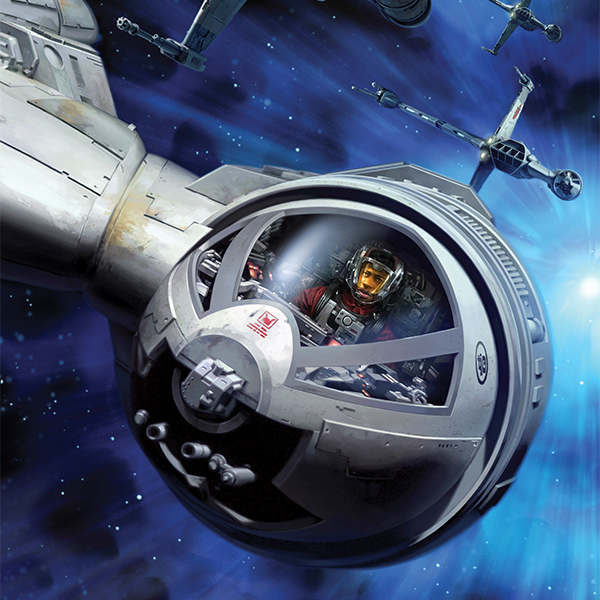 I am a small business owner from Bulgaria. I have been tinkering with personal computers ever since I was a kid. I feel enchanted by Bitcoin technology; last time I felt this excited was some 23 years ago when I first started surfing the internet using a 28.8k modem.