The first comparison review in this series is dedicated to the largest Bitcoin broker in the world: Coinbase. It is among the first names in the industry a bitcoin newbie hears, and it makes sense for us to start with it as well.

Note: this and other comparison reviews will follow the format described at the section page.
Coinbase
Web site: https://www.coinbase.com (follow this link to get $10 when you buy or sell $100)
Legal Name: Coinbase / Coinbase UK
Established: June 2012
Located in: USA / United Kingdom
Insurance for fiat currencies: USD assets belonging to US residents are FICA insured / T.B.D. about EU residents
Insurance for digital currencies: Syndicated insurance policy via Lloyd's London
Available in: 32 countries (August 2017)
Digital currencies traded: BTC / ETH / LTC
Coinbase is a broker service (i.e. the user buys from / sells to the legal entity) and not a marketplace (i.e. the user buys from / sells to other users). However Coinbase have a sister company called GDAX which does exactly that. As some of the other services we'll be reviewing (Kraken, Bitstamp) fall into the marketplace category, we will also write a separate overview of GDAX. Coinbase also offer merchant services that allow 3rd parties to accept payments in bitcoins.
User Registration and Validation
Sign-up for this service is quick and simple. You have to enter your full name, email address and a password1Long and unique. Don't ever think of reusing your email password here!!. Your profile initally has very small limits on depositing and withdrawing fiat currency and buying/selling coins. To increase these limits, you are asked to validate your identity by providing a photo ID (passport, ID card or a driver's license). This is used to prove your legal name and to lock your country of residence (you may change the country in your profile by uploading another government-issued ID).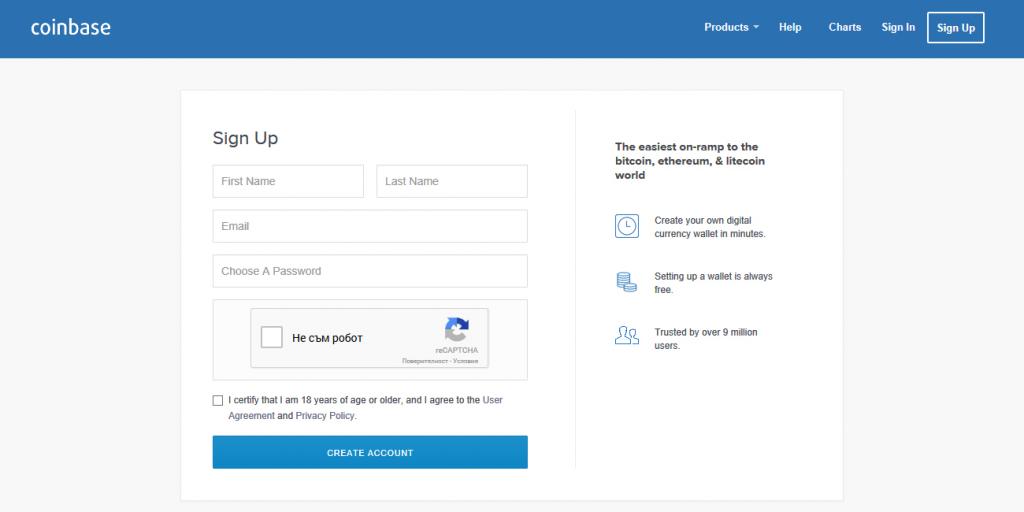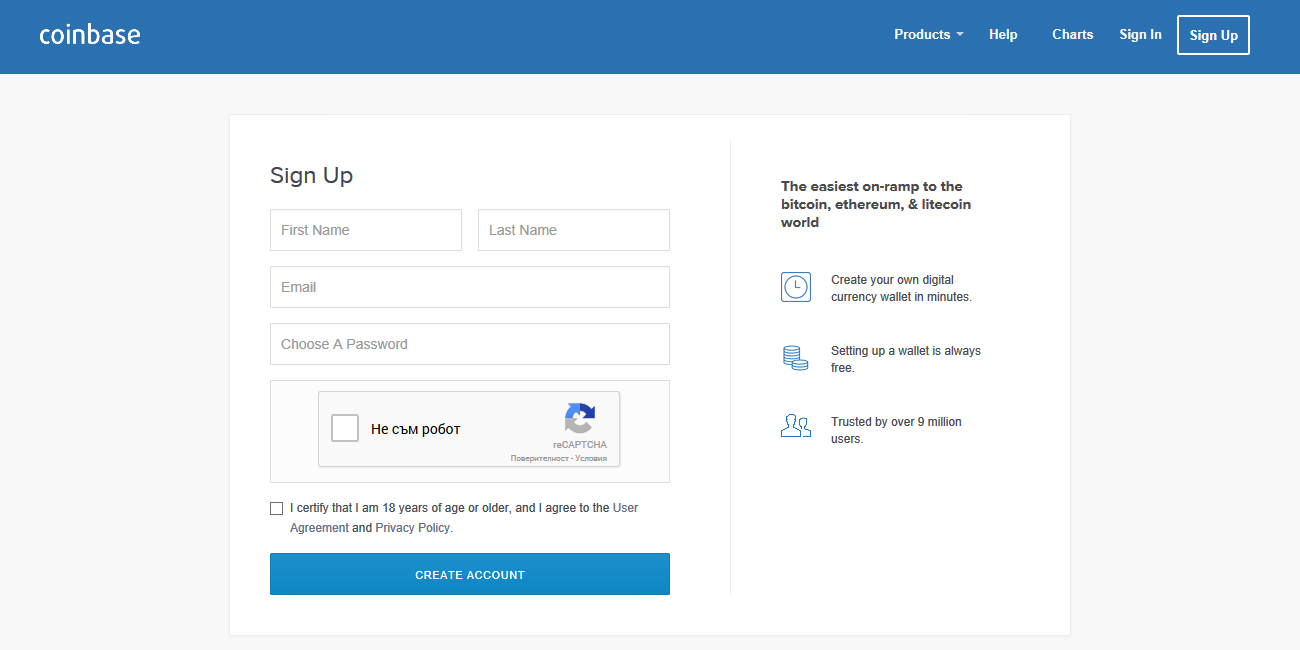 I was actually quite impressed with the implementation of the validation procedure. Instead of uploading pictures of your ID card from the browser, Coinbase asks you to open a special link from your smartphone browser and then take a picture of the ID (front and back) using the phone's camera. The back-end software automatically performs optical recognition upon submission of each photo.
While I was doing this procedure, the Coinbase website was having some intermittent problems, and I had to repeat it 4-5 times. You have to know that Coinbase is not 100% stable at all times and you should expect similar issues. A little patience will do the trick. In the end, I spend less than 1 hour with ID validation. This is much better than other services which take 2-3 days to 2-3 weeks to approve a new user.
While you are at it, you may also want to validate a SEPA bank account (for EEC). Validation requires that you make a small payment to a SEPA account designated by Coinbase (the one I was given had an Estonian IBAN if I remember well) and your payment order must include a particular string of digits and letters. You need to use your own bank account for this (payee details must match your details). Otherwise Coinbase will reject the deposit & return the SEPA transfer.
Currencies Traded & Limits
Coinbase presently allows you to trade Bitcoin (BTC), Ethereum (ETH) and Litecoin (LTC).
EC-domiciled users may hold deposits in EUR. A fully validated personal account with Coinbase UK has a weekly limit of €15,000.- for EUR deposits and a separate weekly limit of €15,000.- for selling/withdrawing coins. Each credit card that is used for buying coins carries a separate rolling limit. Initially, it is set to €500.- and the website tells me that it will increase as soon as I purchase a total of €1,000.- with the same card. I don't know how big is the maximum (some users on reddit complain they are stick at $1,000.-/€1,000.- and others admire this big limit). Further limit increases may depend on age of account. Coinbase are not very straightforward on limits and I can't find the figures on their website, but somebody who claims she works at Coinbase says at Reddit that:
Limits are calculated based on your account information which includes, but are not limited to, verifications and successful purchases made on the account.
However this is not very important because credit card deposits are very expensive and you will probably be much better off using SEPA transfers for making deposits.
Deposits & Withdrawals
Coinbase processes SEPA deposits for free but your bank may charge you for the outgoing transfer. SEPA transfers are very cheap in normal EU countries but unfortunately not so much in others. In Bulgaria (where I live) most banks charge between €10 and €35 per SEPA transfer2Get in touch with me if you operate in Bulgaria and want to know possible workarounds. Validating your bank account to enable withdrawals may be an expensive operation on its own.
When bank transfers are expensive, services like TransferWise (click on my referral link to get a free £500 transfer) or PaySera (sorry, no referral link with bonuses for you) may help you save money. However unfortunately web money companies seem to disallow payments related to crypto currencies. TransferWise rejected my SEPA payment outright. My PaySera payment went through only to bounce back a day later along with an automated explanation from Coinbase that they do not work with Lithuanian residents.
I am not domiciled in Lithuania, but PaySera are and my account with them has a Lithuanian IBAN. That is why the system automatically rejected the transfer. Shortly afterwards, I received a second automated response from Coinbase. "Unfortunately, a further review has determined that we are unable to clear your account's ability to receive deposits at this time."
This sounded pretty scary and looked as if I wouldn't be able to use their service at all. So I immediately wrote to support about this… and have not heard back from a human being yet (7 weeks and counting). Thankfully, it was just some poorly worded piece of autoresponder garbage, and  I have successfully deposited funds from a Bulgarian bank account since then.
When you do withdrawals, again you have to be careful with bank costs. Some Bulgarian bank also charge hefty fees on incoming SEPA transfers. So basically make sure you know your bank costs before you begin buying and selling bitcoins.
Coinbase Fees & Costs
Because Coinbase is designed to serve primarily small buyers with irregular trading patterns, their fees fall on the expensive side.
Coinbase charge each BTC/ETH/LTC purchase with a 1.5% conversion fee applied on top of the spot exchange rate at GDAX. Transactions under $200 carry a fixed minimum fee. On top of that, you pay a 3.99% surcharge for purchases you make with a credit or debit card. Remember that I told you credit card payments are very expensive? This is what I meant.
If you forget everything else about this Coinbase review, please remember the following:
You should buy bitcoins with a credit card from Coinbase only as a matter of emergency. Like, you really need the coins and can't wait for a day until a SEPA transfer clears;
If you intend to buy/sell bitcoin regularly, you should find a bank that doesn't charge you much for outgoing and incoming SEPA transfers, and operate via deposits only;
Read the reviews of other exchanges we have written before committing to use Coinbase — you may find a better match to your needs!
SEPA withdrawals carry a charge of €0.15 and are relatively quick (1 business day at most).
Coinbase.com Interface
The Coinbase dashboard is very friendly and generally easy to use. The Buy/Sell form is a thing of beauty. Some unknown UX master has spent a lot of time and effort to make buying or selling coins feel as smooth as a cup of icecream.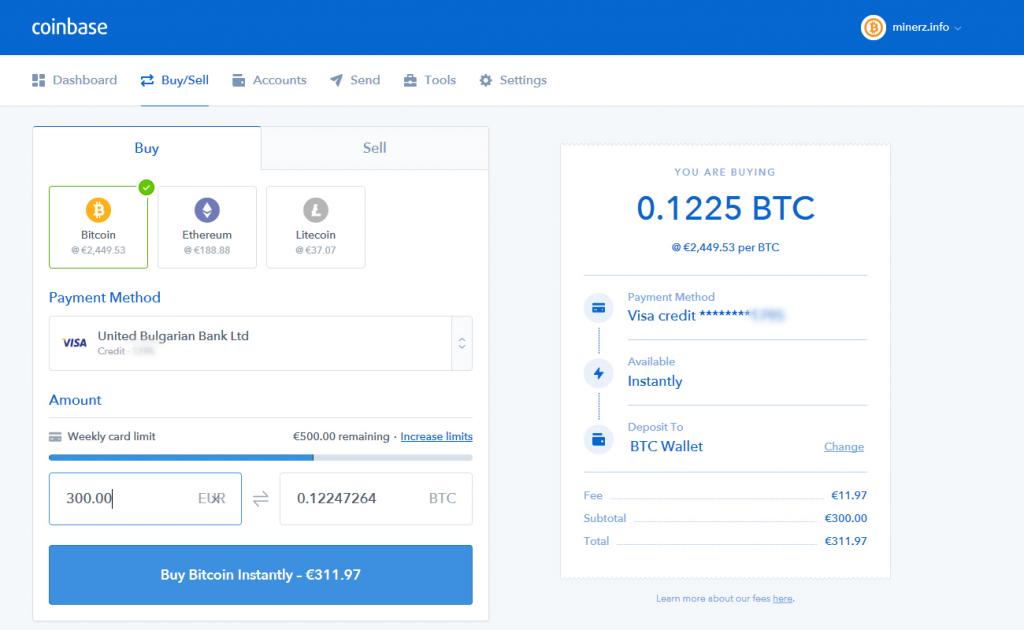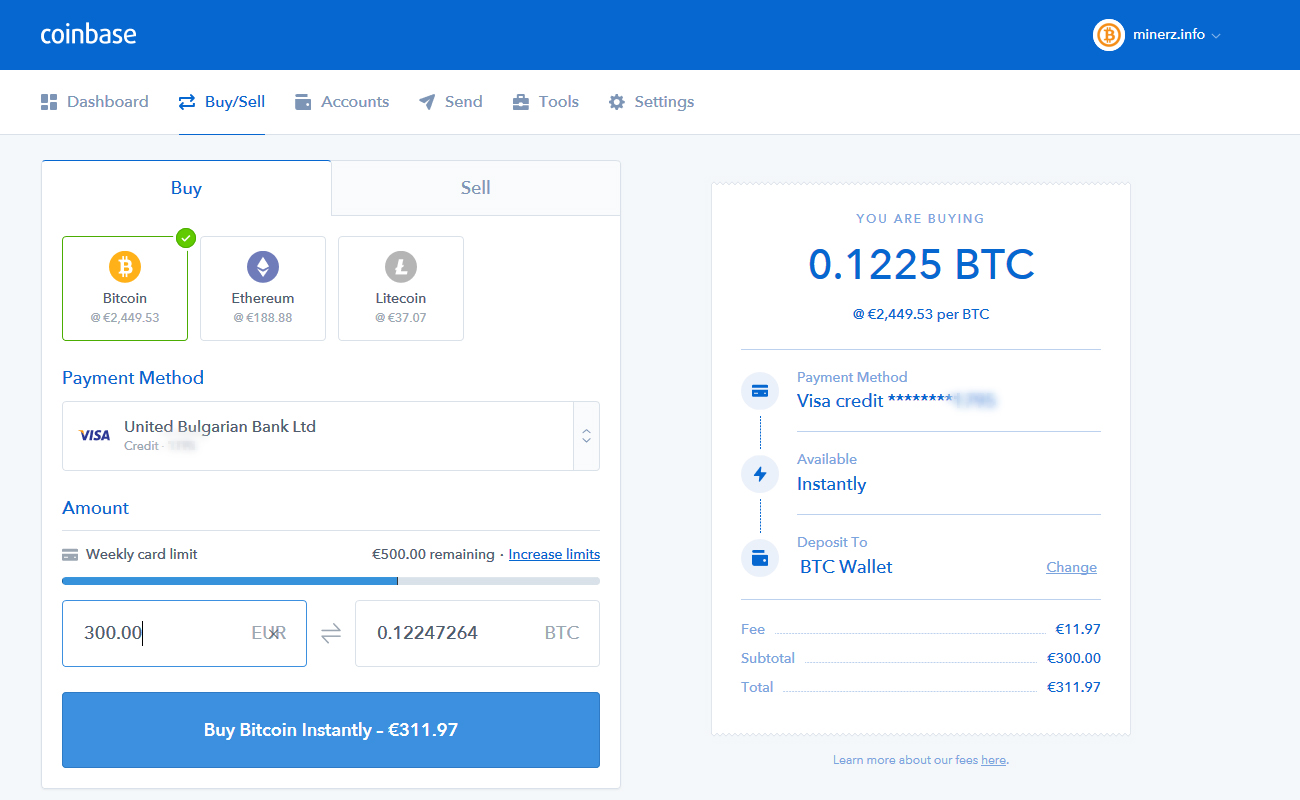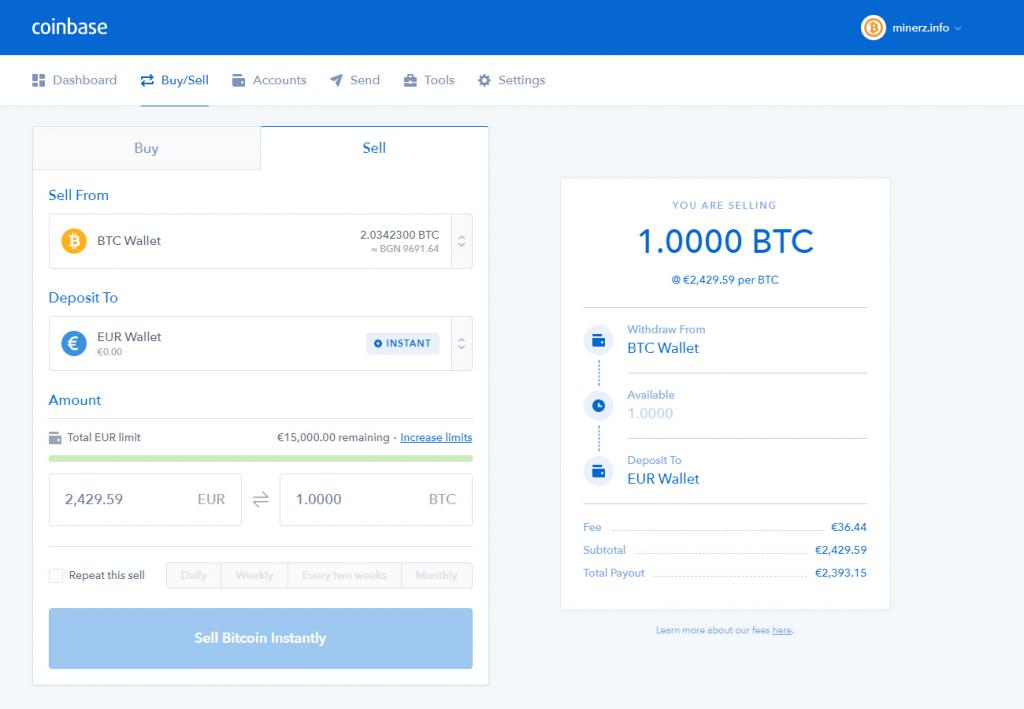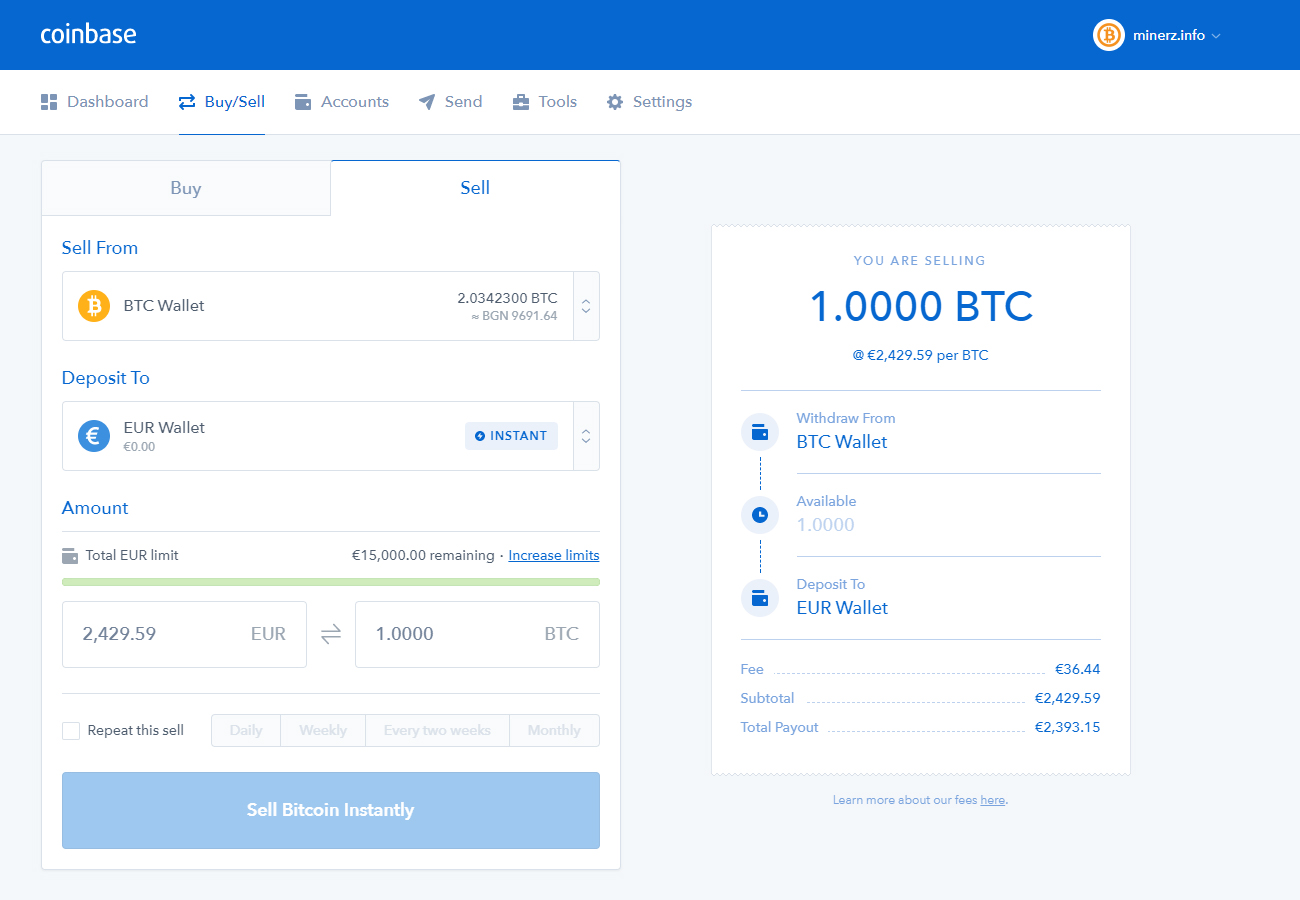 I have only one issue with the interface. Every time you click on the 'Receive' button, you will get a new bitcoin addresses, but you won't have the chance to label it. You have to copy the address, then go to Tools, find it there and click on 'Details' to apply a meaningful label. Why is a label necessary? Well, you need to know what Bitcoin addresses you give out for what purpose. Otherwise you won't know who is paying you for what.
Mobile App
Coinbase also have a lovely mobile app for Android and Apple iOS (which runs on both iPhone and iPad but does not have an iPad-native version).
Security Features
The security features is what I would describe as excellent, especially for new bitcoiners. Coinbase have done very well with this one!
Apart from the standard 2-factor authentication3which you should always enable upon registration, no questions asked. Coinbase provide a special kind of Bitcoin account called a Vault. You can transfer Bitcoins directly to the Vault and they will appear immediately, but unlike a regular Bitcoin account, the Vault has a 48-hour wait period until it allows you to withdraw any coins in it.
You can set up your Bitcoin Vault to require multi-party authorization and send withdrawal notifications by phone and email. Should you do so, all withdrawals will require you to respond to two emails, and over the course of 48 hours from successful authorization you will receive several email reminders and SMS notifications. You can use each of these notices to cancel the withdrawal.
This provides a great amount of protection from standard hacking or phishing attacks and although I generally do not recommend keeping large amounts of coins in online wallets, the Coinbase solution is the safest one if you really have to do it.
Privacy
Many people wrongly claim that using Bitcoin is anonymous. This is generally untrue: at best, it can be pseudonymous, which is something entirely different.  It is even less true when using a licensed and regulated exchange service like Coinbase. International money laundering legislation obliges licensed services to employ KYC (Know Your Customer) policies.
There is absolutely no way to use Coinbase anonymously: even if you don't submit your photo ID and stick with the small limits used with credit cards, Coinbase will still have the link between that credit card and you.
Apart from the above, you should also be aware that Coinbase monitors the payments across its network and may close or freeze your account if they decide you spend your money on the darknet or deal with gambling or adult stuff. So please, please don't use Coinbase to pay for something stupid and/or illegal.
Customer Support
You should be aware that the poor quality of Coinbase support is the stuff of legends. As I mentioned above, I have yet to receive a reply from a human being to an inquiry I sent 7 weeks ago. The service works reasonably well but if you have a problem, you are on your own.
Conclusion
So, who will benefit from using Coinbase the most? If you buy or sell small amounts of cryptocoins infrequently, you should definitely give Coinbase a go. The least you can do is create and validate an account, so that you can use it without delay if/when needed. If you follow this invitation link and register an account with them, you will get $10 free as soon as you have bought or sold a total of $100 worth of crypto coins. This amount is cumulative and is calculated over the first 180 days from joining, which gives you ample time to get this free money. Try Coinbase now.
Did you like this kind of review? What do you want me to add or change to make it better? Let me know in the comments below.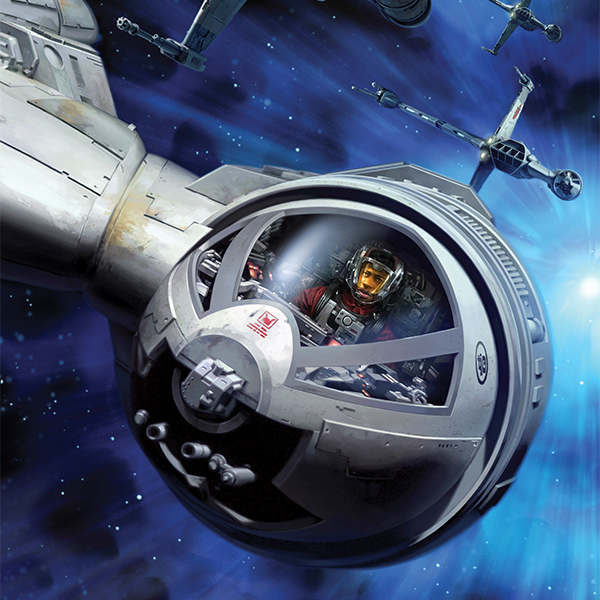 I am a small business owner from Bulgaria. I have been tinkering with personal computers ever since I was a kid. I feel enchanted by Bitcoin technology; last time I felt this excited was some 23 years ago when I first started surfing the internet using a 28.8k modem.